TrackOFF Elite Review & Recommendation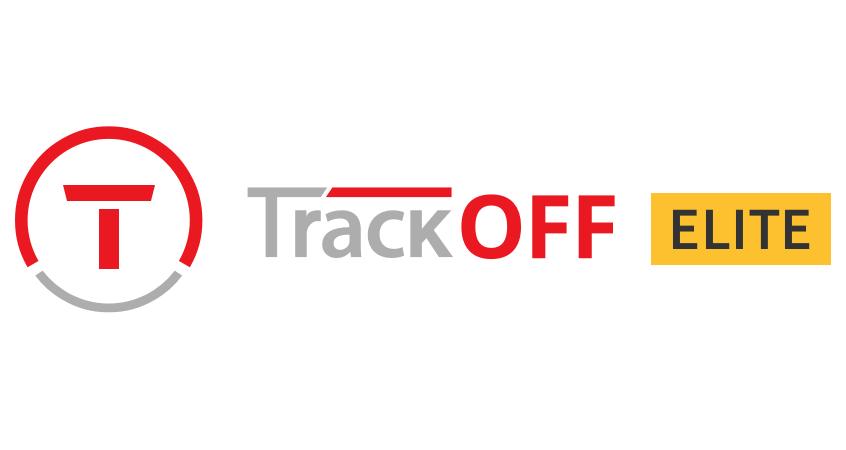 TrackOFF Elite
At a time when online privacy is becoming more important than ever, having the right tools to keep yourself protected is essential. TrackOFF Elite is an all-in-one solution for Windows, primarily designed to keep you safe from being tracked based on your digital fingerprint.
Your digital fingerprint refers to a collection of data about your computer and browsing habits that can be used to identify and track your web browsing. The companies that create these trackers can use this to build a unique profile of your online activity, which can then be used, shared, or sold to other companies or even requested by the government.

One of the most recognizable uses of this kind of tracking is advertisements that seem to follow you across multiple websites, often advertising a product you previously viewed or looked up. TrackOFF Elite protects you from this kind of tracking (and more) using algorithms that alter and mask your digital fingerprint across different websites, making the information that the trackers gather useless.
Read on to learn about our favorite parts of TrackOFF Elite, as well as an overview of each feature in the software.
What We Liked
The Dashboard screen allows you to quickly see how well you're protected, as well as address any issues with your privacy protection. It provides an overall privacy score based on your current protection configuration with the software.

TrackOFF automatically detects installed browsers to make it easy for users of any skill level to get set up and protected fast.

With the Elite version of TrackOFF, you also have the added VPN and location masking features. The VPN can be activated with a single click to effortlessly secure browsing sessions as needed.

For a full rundown of the features included in TrackOFF Elite, continue reading the next sections.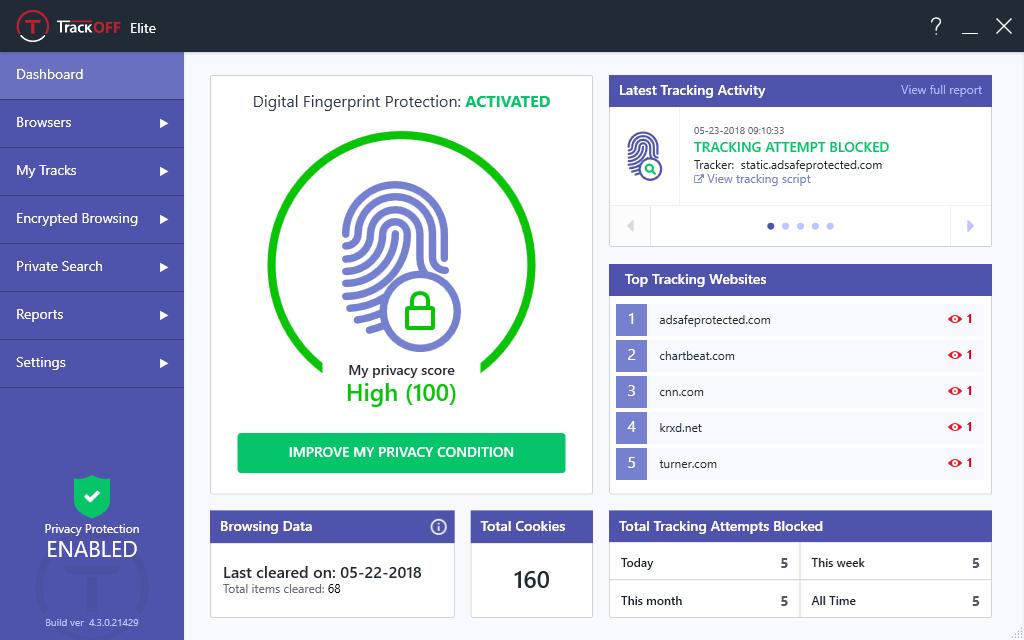 Dashboard
The Dashboard in TrackOFF serves as an overview of your current protection. From here you can see your privacy score, which is an overall rating of your protection based on the features you've enabled in the software. You can also see the latest tracking attempts, and the top five websites that are attempting to track your browsing. Statistics are provided on the last time your browsing data was cleared, the total number of current cookies across your various browsers, and counts of tracking attempts for the current day, week, month, and all time.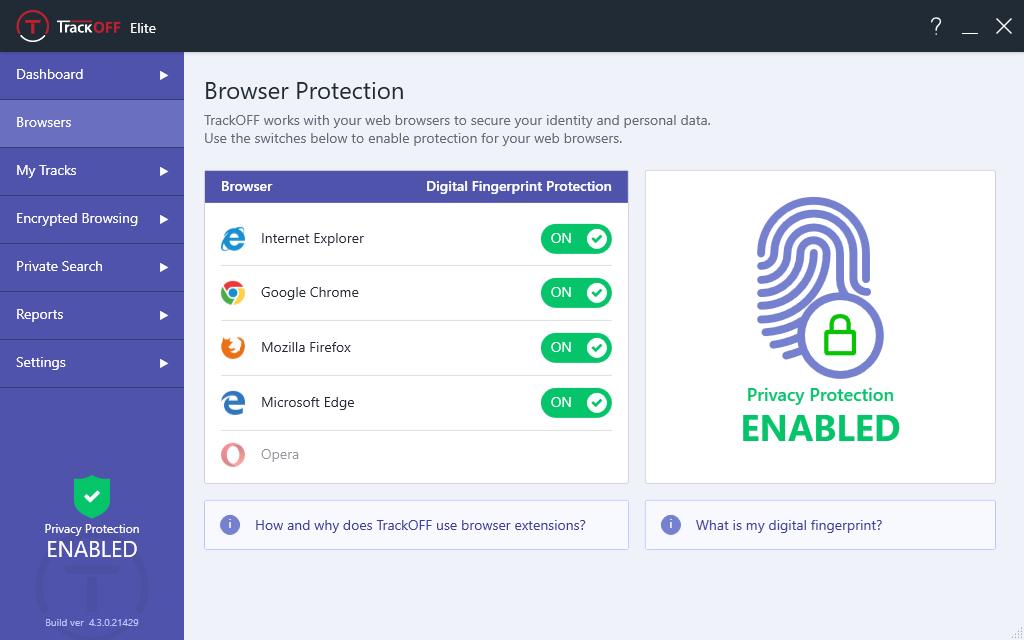 Browsers
The Browsers screen lets you enable digital fingerprint protection for common browsers including: Internet Explorer, Google Chrome, Mozilla Firefox, Microsoft Edge, and Opera. Browser extensions are required for compatibility with the web browsers Google Chrome, Mozilla Firefox, and Opera, but the software will detect if you have any of these installed and offer steps for installation. These steps will automatically take you to the browser extension in the given browser, making it very easy to configure.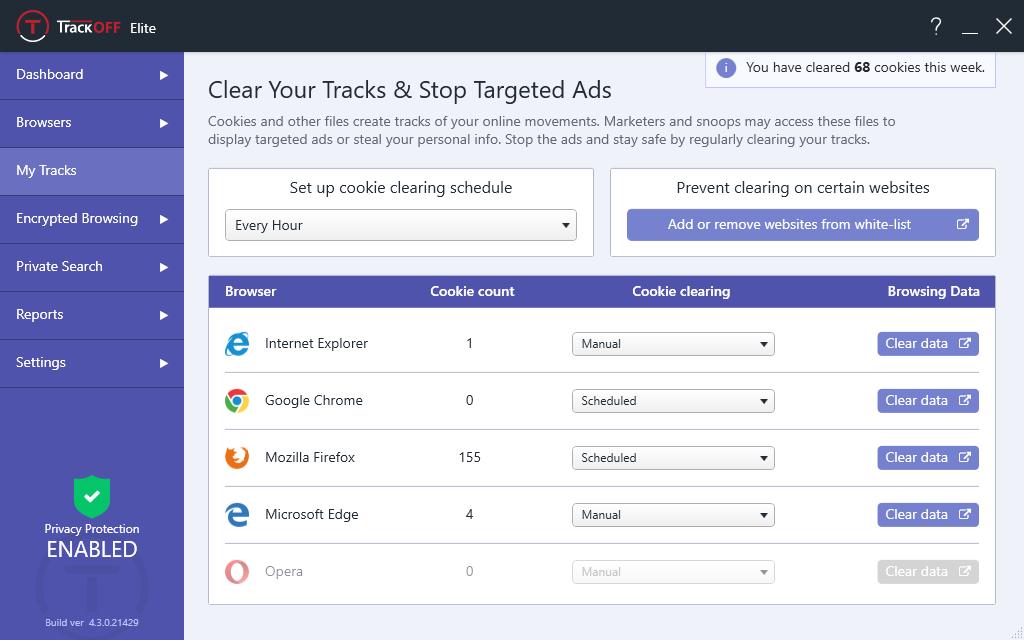 My Tracks
The My Tracks screen provides information about the cookies being stored by each of your web browsers. You can see the total count of current cookies for each browser, and clear them manually, with a weekly total of cleared cookies provided. This screen also allows you to set whether you want to clear cookies for each browser manually or on a schedule. Scheduling your cookies to be cleared will increase your overall privary score in the software, even more so if you increase the clearing frequency. Lastly, from the My Tracks screen, you can add or remove favorite websites from a white-list that will prevent clearing cookies from those sites. This can decrease your overall privacy score, so you'll only want to use this feature for websites you trust.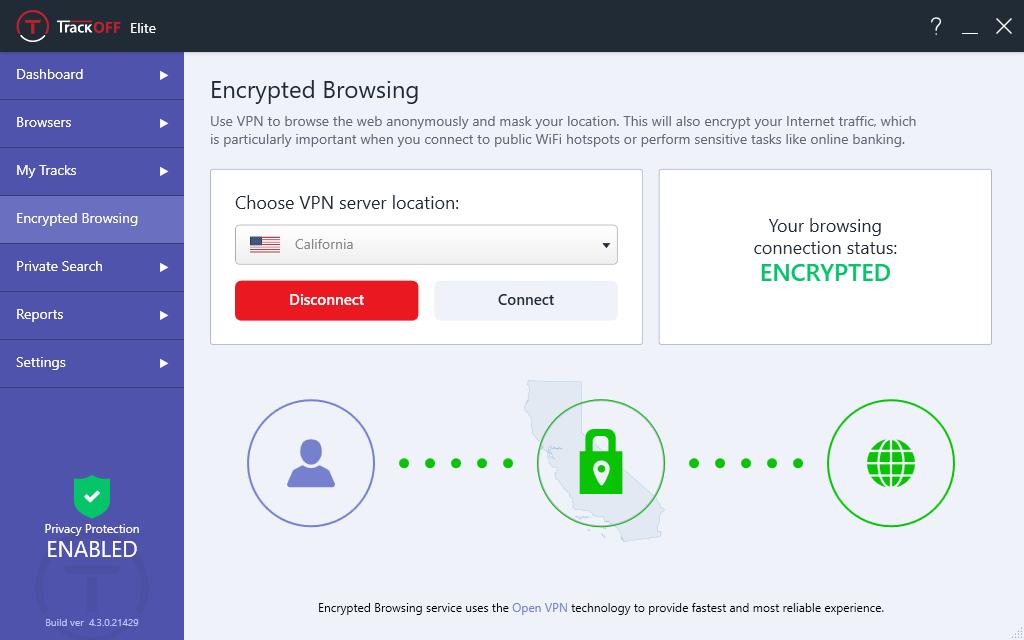 Encrypted Browsing
The Encrypted browsing feature is the main benefit of choosing the TrackOFF Elite option over the Standard software. This lets you use a VPN to encrypt your internet traffic and browse anonymously with location masking. The Encrypted Browsing feature in TrackOFF Elite uses OpenVPN, a well known technology that is fast and secure. You can choose a VPN server location, and easily protect yourself with a single click to enable or disable the VPN service. Enabling Encrypted Browsing will cause your privacy score in TrackOFF to skyrocket, as it's one of the most effective ways to protect your online privacy.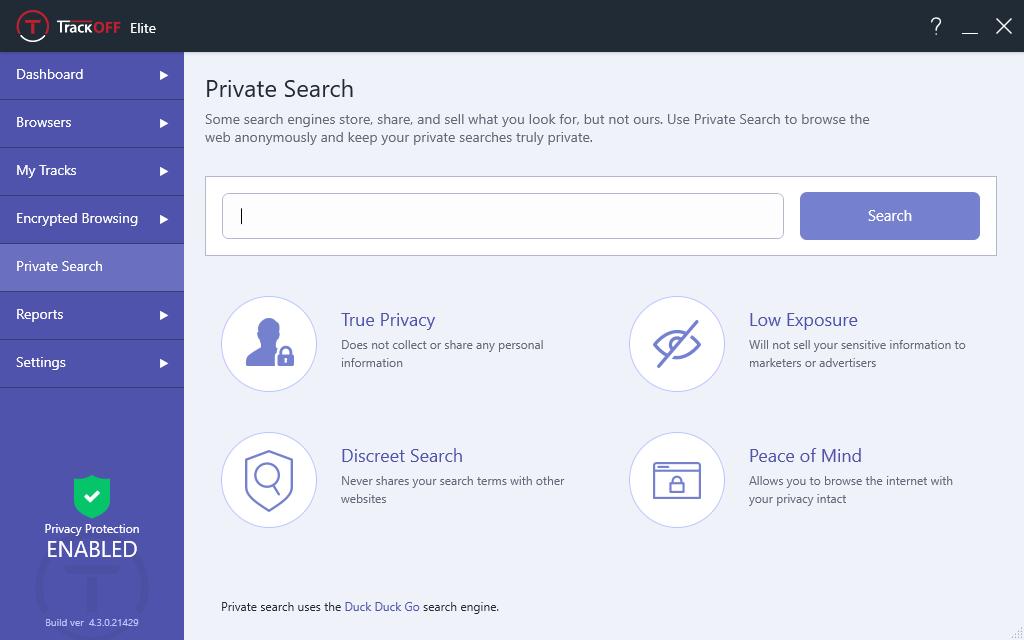 Private Search
The Private Search screen allows you to perform a search using the Duck Duck Go search engine, and will open the results in your default web browser. Unlike many other search engines, this service does not collect or share your personal information, does not sell user information, and does not share your search terms. This means that things you search for using this feature will not result in ads related to your search following you around online.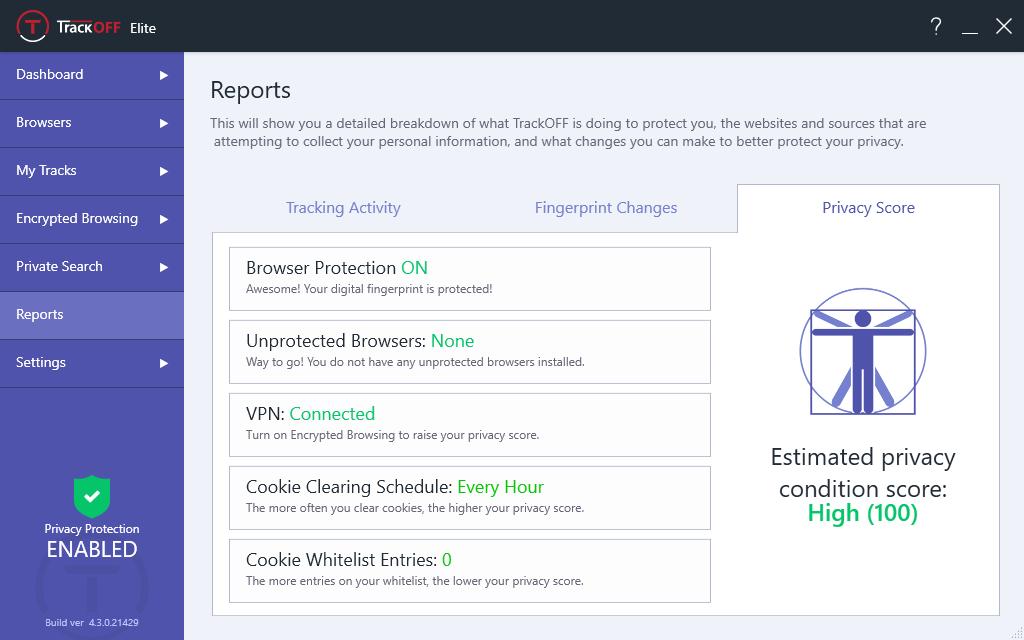 Reports
The Reports feature shows you a history of your Tracking Activity, including the source of the tracking attempt and the actual tracking script. You can see a history of your Fingerprint Changes, which are done periodically by TrackOFF to mask your identity across different websites. The Reports screen also provides a more detailed breakdown of your Privacy Score, so you can determine what changes can be made to better protect your online privacy.
Final Thoughts
With its polished and easy-to-understand interface, as well as the simplicity of its features that keep your online privacy safe, TrackOFF Elite is a Prosoft Preferred Product. To get protected, all you need to do is follow the prompts to install any needed browser extensions, enable Browser Protection, and set up a cookie clearing schedule. The Encrypted Browsing option can then be enabled to further secure your web traffic by using a VPN. We recommend TrackOFF Elite as an anti-tracking software for any PCuser's online privacy needs.
About the Author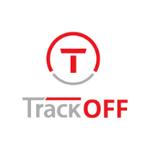 TrackOFF, Inc.
TrackOFF builds tools to protect users' identities and personal lives. Our mission is to empower people to reclaim control of their data.
Today's digital environment is complex, that's why we build easy-to-use software with the everyday consumer in mind. We also believe in the right to privacy: Your sensitive information won't be collected, shared, or sold.