Need a Professional Data Recovery Service?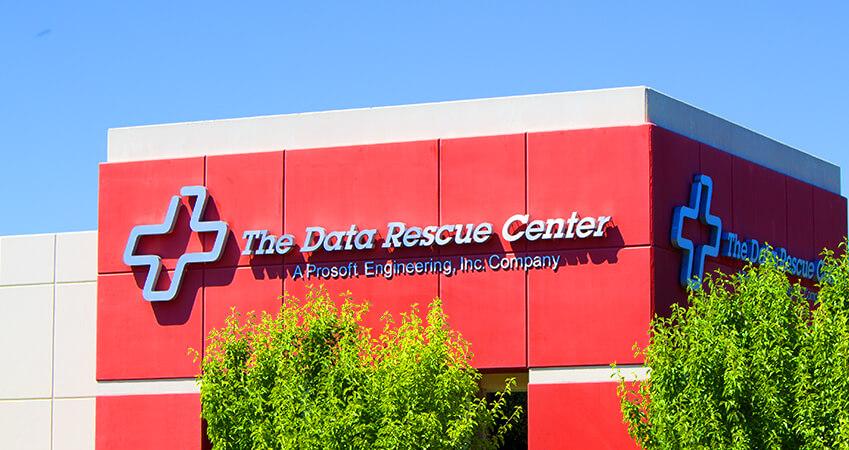 The Data Rescue Center in Livermore, California, is the perfect company for you. The company was founded on the philosophy of reliable, honest care, and providing top-of-the-line technical recovery. Our owner built a world-class facility, attracted the best technical recovery agents, and designed the best data recovery software to boot. Here are some of the things that put the Data Rescue Center above and beyond the competition.
The Vault
When you contract a data lab for hard drive recovery, you want to be sure that your data is safe and secure. We understand the importance of your data. Therefore, we have put massive security controls in place to protect your equipment. It all begins with our UL-listed, Class 2 vault. We secure all media in this vault; from standard drives and SSDs for hard drive recovery to digital media for flash drive recovery. Everything is protected in the vault.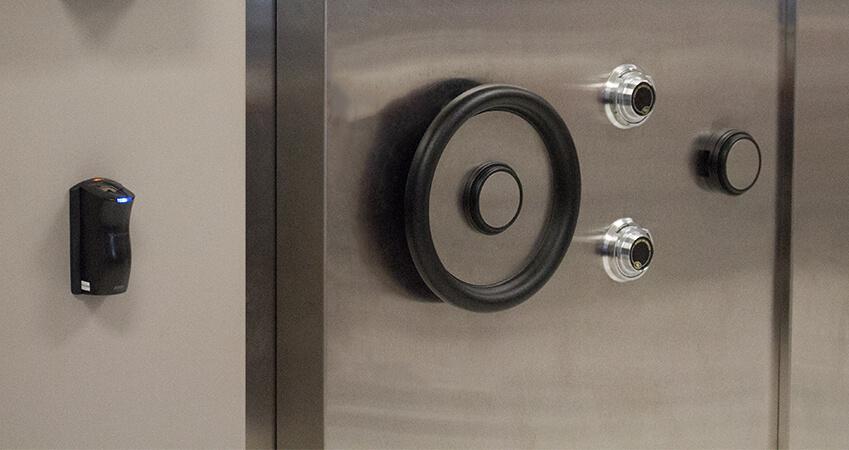 Our vault is made similar to what you find in many banks. Here are some of the features of our vault:
The vault is constructed of formed steel panels that encase a high-strength concrete core. The core has a density rating of 14,000 pounds per square inch.

The vault is able to withstand entry attacks by torches and tools for 60 minutes. An attacker will give in before the vault does!

Our vault is equipped with a door that requires two combinations for entry. Additionally, it is further protected by biometric technology and requires two people to open it.

The door lock is controlled by a timed lock mechanism so that the door can only be opened during working hours. The door cannot be opened during off-hours.

The entire locking mechanism is rated at two tons. Our vault is your personal "Fort Knox". Your hard drives are stored here, and only the lead technicians have access.
The Cleanroom
A cleanroom is a room or area with reduced airborne particles through control of the environment. Air particles at the sub-micron level must be removed constantly to prevent contamination.
This is accomplished through the use of pressurization, temperature and humidity control, air flow direction and rates, and specialized filtration. Cleanroom environments are usually required in pharmaceutical, electronic, medical device, and other specialized manufacturing facilities. Each facility will have different standards regarding the amount of particles permitted, depending on the processes involved within the cleanroom. Typical air particle levels in an office environment range from 500,000 to 1,000,000 particles per cubic foot. Cleanroom levels, however, might be 100 to 10,000 particles.
Strict protocols must be maintained to prevent contamination. The air is constantly monitored for any abnormal levels of airborne particles, which could contaminate the room and cause disaster. Even a human hair or flakes of skin could contaminate the area. Depending on the type of contamination, the cleanroom would have to shut down completely or a computer hardware malfunction could occur.
Opening a hard drive for data recovery requires a contaminant-free atmosphere. The Data Rescue Center uses and maintains a Class 100 cleanroom for hard drive recovery. A Class 100 rating means that the company has followed federal standards for air quality control. An ISO 5 rating is similar but means that the company has also met the criteria required for the International Standards Organization. The Data Rescue Center meets the requirements of both organizations.
Listed below are some of the characteristics of The Data Rescue Center cleanroom: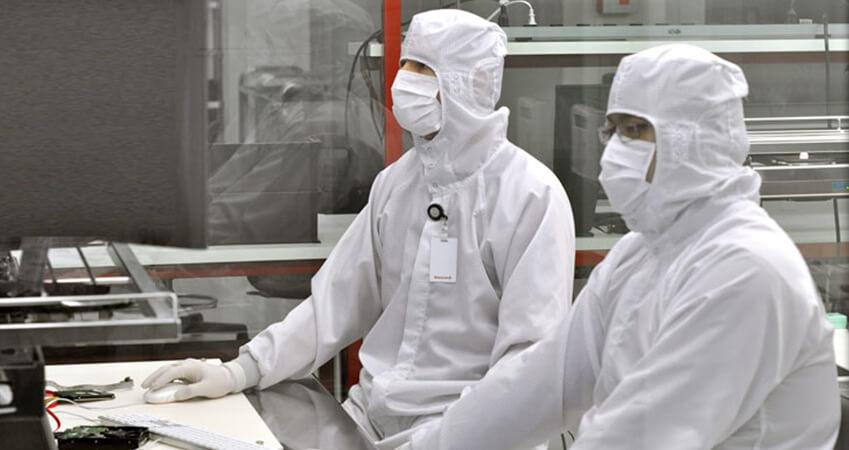 The cleanroom meets or exceeds the warranty protection standards for drive manufacturers.

Air is cleaned using ultra low particulate air filters, also called ULPA filters.

A Class 100 gowning antechamber keeps contaminants from being introduced into the environment when the data recovery expert enters to repair the drive.

Each cubic foot of air in the cleanroom contains less than 100 particles of contaminant that measure greater than 0.5 micrometers.
The Attire
Working in and maintaining a cleanroom environment can be a difficult task, but it is an important part of advanced hard drive recovery techniques. We do everything we can to prevent contamination damage; that includes our technicians' attire as well.
Before entering the antechamber, the technician cleans his or her shoes with a motorized, rotating brush to remove any loose dirt. The technician enters the gowning chamber, walking across a sticky mat to remove particles from the shoe soles. Then foot booties are placed over the shoes and secured.
Next, the technician dons a zippered, hooded, full-body jump suit. After putting on a hairnet and hospital-style facemasks, the technician pulls the hood over the head and makes sure all zippers and fasteners are secured. However, the donning is not done yet! Full shoe covers are donned next. They reach to just under the knees and are fastened in place. Finally, the security badge is attached, ensuring that only our qualified technicians are working on your equipment.
It may sound like a lot of trouble, but we value you as a client and protecting your data is vital. Internal and external hard drive recovery must be done correctly, including the removal of all contaminants.
The Customer Service
When you call The Data Rescue Center, our U.S.-based support staff will politely help you through the hard drive recovery process. Customer service is extremely important to us. We hope to give you the most positive experience possible through your recovery process.
The first call to the support staff will establish if your hard drive requires physical recovery. We never ask clients to send in their hard drive when better or more realistic options will do. If you have a logical error in your hard drive, we will direct you to our award-winning Data Rescue software. Often our support staff discovers that a client has committed an irreversible error, such as over-writing their data, or downloading Ransomware. At that point we, unfortunately, tell them the truth of the situation: that their data isn't recoverable.
If you decide on The Data Rescue Center, you can request to use our "Red Box" hard drive shipping service. The Red Box gets shipped to you with complete instructions. Or you can ship the hard drive yourself. Be careful to package the hard drive securely by using bubble wrap and wadding, insert your Client Information Form, and ship the drive.
The Data Rescue Center guarantees free in-bound shipping, and a free no-risk evaluation of your hard drive. If the technician finds that no data is recoverable, the client will not be charged any money. Our support staff will keep you informed of your hard drive as the results become available. Before we attempt recovery, we will contact you with a price quote for your approval.
After the successful recovery, we copy the information to a new Western Digital hard drive. Our support staff double checks the contents of the hard drive with the client. Then the hard drive gets securely shipped to your address, or waits for pickup. Customer service is extremely important when dealing with your critical data. At the Data Rescue Center, we take great steps to make sure you are informed and comfortable with the recovery process.
About the Author
Jeremy S.
My name is Jeremy, and I write for Prosoft Engineering. I am passionate about hard drive disaster prevention and recovery. In my free time, I like to read classic literature and explore the Bay Area.