How to Easily Backup Your iPhone to Your Mac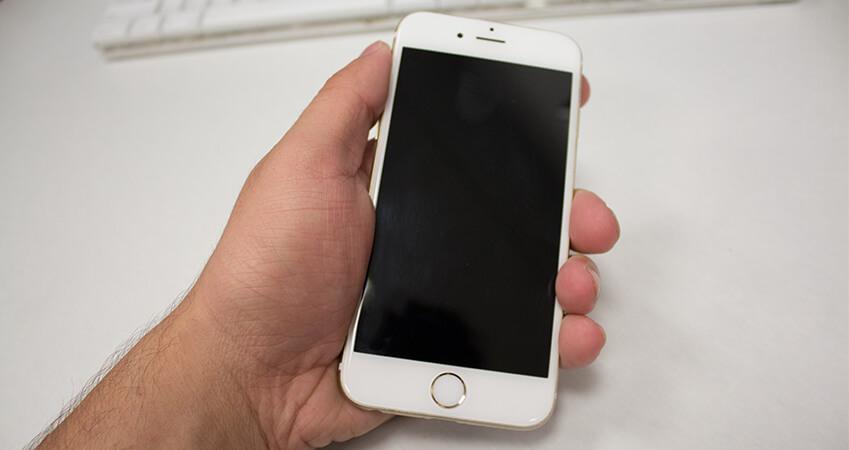 Today's iPhone is not only an indispensable means of communication, but also a handy device to store extremely important data such as: photos, videos, entertaining movies, personal information, and financial documents. If there is any advice to give iPhone users, that would be always remember to backup your iPhone. MacX MediaTrans has professional utilities that can make a safe iPhone data backup on your Mac computer. In this blog, we'll discuss the reasons why you should backup iPhone to Mac, and how you can do this easily.
Why Should You Backup iPhone Data to Mac?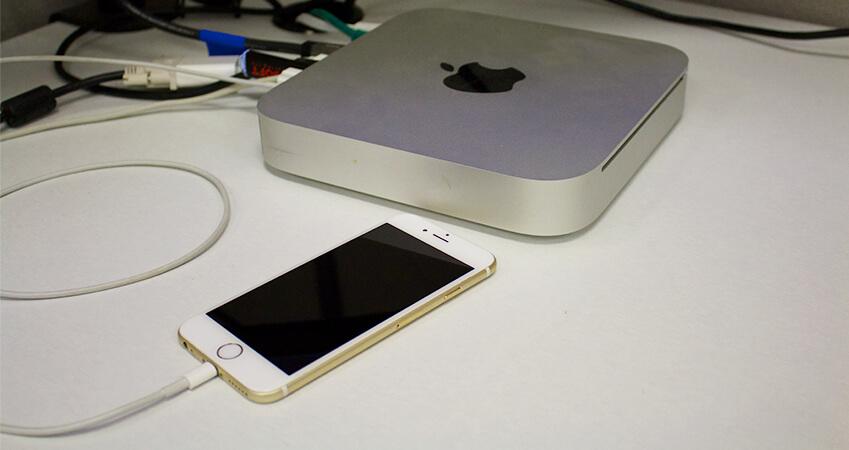 iPhones hold many files. Some are irreplaceable photos of once-in-a-lifetime memories, some are personal information that is crucial to daily life. As a safety precaution, you may want to have your important data saved safely in case your iPhone is lost, damaged, or broken.

All of the 12MP/8MP pictures, live photos, 4K recordings, movies, and TV shows can quickly eat up an iPhone's storage. A backup can be a safeguard when you want to delete some data to free up more space on your iPhone.

New versions of Apple's iOS update to your iPhone a couple of times every year. An overall backup is necessary against an iOS update fail, and will also help transfer data quickly and simply to newer iPhone models.

Say goodbye to the hesitation or fear of messing up your iPhone when you try something new.
Thankfully, iPhone-to-Mac backup is easy these days. Today's topic is about how to backup iPhone to Mac, so we'll skip the method of iPhone backup to iCloud over a Wi-Fi connection. There are two ways to backup your iPhone to Mac: the first is to save iPhone data to Mac using iTunes; the second is to backup to Mac computer with a professional iPhone backup program called MacX MediaTrans. iTunes backup is nothing new to iPhone users, so for the purpose of this tutorial we will focus on the latter method. Read on to discover how easy and fast it is to backup your iPhone data to a Mac computer.
Backup iPhone to Mac with MacX MediaTrans
The iPhone backup software has a significant advantage over the iTunes method in terms of speed. MacX's internal test indicates that the software takes only 30 seconds to backup 1,000 iPhone photos in HD or 4K resolution. Anyone who wants to backup iPhone data to a Mac faster are strongly suggested to try its trial version. It has the same backup options as the full version, just limits on the number of files you can backup.
To download the trial version of MacX MediaTrans, go to its official page and simply click the free download button. The program works smoothly on MacOS High Sierra, Sierra, El Capitan and earlier versions. Plus, it's also fully compatible with the latest iPhone 7, iPhone 7 Plus, and other iDevices running on OS 11 or earlier.
Start iPhone to Mac Data Backup with MacX MediaTrans
Once the MacX MediaTrans is downloaded on your Mac, click the program in your Application folder to launch it. Then plug your iPhone into the Mac computer using the USB cable. The program will instantly detect your iPhone.
When your iPhone is connected to your Mac computer, iTunes will launch immediately and automatically sync all content between iPhone and Mac. To avoid any accidental data loss or erasing, you're suggested to disable the iTunes auto sync. To do this, select your iPhone from the device button. Then scroll down to Summary section and uncheck the box for "Automatically Sync When This iPhone is Connected".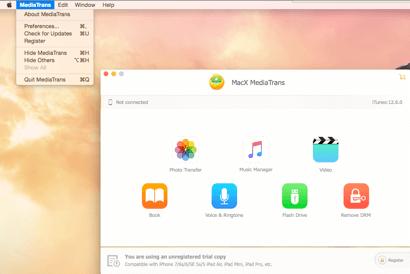 When you use this iPhone backup software for the first time, you need to set up some necessary settings. Click MediaTrans on the top left corner and scroll down to Preferences. Then a window will pop up asking you to set the output folder on your Mac computer to save the iPhone backup. After that, go back to the main interface.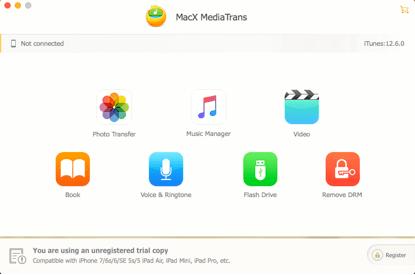 The interface of the software offers several options, indicating different types of iPhone data that you can backup including: photos, songs & playlists, movies & videos, books, and audio etc on iPhone. Select and click the respective button based on the iPhone file you'd like to backup to Mac. For example, if you have a massive photo library and want to backup photos from iPhone to Mac, click the Photo Transfer button.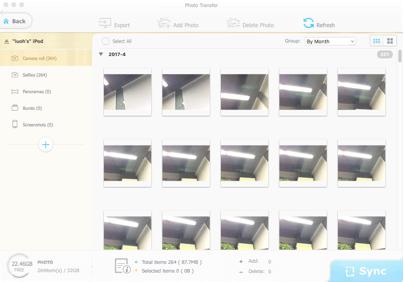 Now you will be taken to a window displaying all the photos that are stored on your iPhone. You can simply click 'Select All' to backup all pictures from your iPhone to Mac. Alternatively, you can click individual photos to select the best shots that you want to keep. After the photos are selected, click 'Export' and the photos you selected will be saved to the default folder on Mac. The software takes only 8 seconds to export 100 pictures in 4K resolution from iPhone to Mac, and half a minute to export 1,000 photos.
The iPhone data backup software has options to mass-delete photos from iPhone, import wallpapers or funny pictures from Mac, manage iPhone photos, etc. MacX MediaTrans is especially beneficial for larger file backups, including photos, 4K/HD videos, large music libraries, and more. You simply follow the similar steps as above to backup other data from iPhone, iPad or iPod to Mac computers.
If you're still confused, check out this guide on how to backup & transfer iPhones. Besides, it offers important extra features that you need to look at. For example, you can remove the DRM protection from iTunes purchased items, or you may mount iDevices as a USB drive to carry files around. Download the trial version to explore more!
There's also a Windows version of the iPhone backup software available for PCs, so you can backup data from an iPhone to a PC if you need to.
Summary
A lot of things can happen to your iPhone, and your important data can be gone for good. Take the necessary precautions by keeping a safe backup of iPhone data on Mac in case the worst happens. For most users, backing up your iPhone once a month or every couple of months will be fine. But if you're downloading a lot of new apps and constantly taking photos, you need to have a super handy and fast iPhone data backup strategy.
About the Author
Digiarty Software, Inc.
Aiming to be a leading digital media company, Digiarty Software, Inc. (MacXDVD) keeps producing a wide range of professional multimedia software applications for Mac, Windows, iOS and Android users since its establishment in 2006.